Developed by Fairview to help solve the environmental impacts of rectification works. The Ecoloop process promises to divert 100% of non-compliant cladding waste from rectification projects from landfill, recycling the waste and giving new life to the resources recovered as they are repurposed into new products, reducing virgin material consumption, and contributing to the circular economy.
Ecoloop, has been verified by to comply with Green Building Council of Australia's (GBCA) Construction and Demolition Waste Reporting Criteria.
The GBCA's Construction and Demolition Waste Reporting Criteria allows waste contractors and waste processing facilities to be verified by an independent auditor for compliance with minimum standards of reporting. This is a critical step in ensuring not only transparency in the industry but also customer confidence regarding the recycling of waste.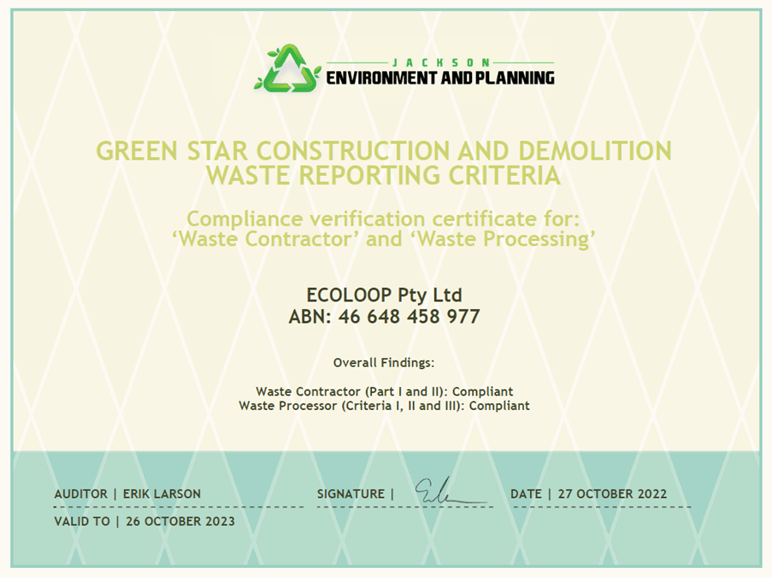 With Ecoloop, you can expect
A holistic ACP recycling solution designed to

manage all components

from rectification waste
A bespoke service tailored to your project needs to achieve your

sustainability targets
All waste processed and recycled

in Australia
Transparent project

specific reporting
---



How is

100% diversion from landfill

achieved?

Firstly, Fairview trucks pick up the panels after delivering new product, creating a backload service to minimise carbon footprint.
The panels are brought back to Lithgow, where they are accurately weighed and recorded.
Shortly afterwards, to minimise storage onsite the panels enter the process. This starts with a primary shred, of all components.
Once down into manageable size pieces, the material enters the Ecoloop Separator. This separates the aluminium from the panel core, any ferrous metals and the mixed residuals.
Once separated, the materials are bagged and distributed for repurposing.
Aluminium

i

s recycled into granulated pellets by Weston Aluminium and sent on to Australian steel mills where it is used as a de-oxidant in the production of steel.

P

olyethylene is sent

to a plastic manufacturer to be repurposed into new and safe plastic products

, such as concrete bar chairs, flower pots, commercial landscape drains and pits,

piping, plastic pallets and bottles.

Ferrous metals

go

to a metal recycler for

the reproduction of

new metal products

.

M

ixed residuals – unlike any other ACP recycling process, Ecoloop diverts any remaining non-recyclable fractions into the Waste to energy process which in turn is used to offset the use of coal.

Uniquely, the

Ecoloop

solution prevents any of the

elements

from

end

ing

up in

landfill.
---
How does Ecoloop work?
The Ecoloop Facility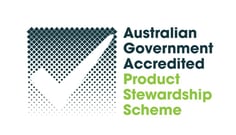 Fairview's  aluminium cladding scheme Ecoloop, has recently been accredited under the Australian Government Voluntary Product Stewardship Scheme. 
Ecoloop specialises in ensuring cladding is given new life, so Product Stewardship Accreditation demonstrates our commitment to sustainability. We were the first business to recycle ACPs, so we are very proud to continue to lead the industry in sustainable practices.
READ MORE ABOUT THE PRODUCT STEWARDSHIP CENTRE OF EXCELLENCE.