Australian buildings are in a waterproofing crisis.
A 2019 joint report from Deakin and Griffith Universities found that water ingress and moisture are responsible for 29% of construction defects. Whilst the causes here are yet to become official, countries such as New Zealand and Canada are in more advanced stages of investigation and now face remediation costs upwards of $ 4 billion and $ 22 billion respectively.
These countries identify contributing factors, including poorly designed cladding, compromised building envelopes, inadequate parapets, eaves and flashings, poor sealants and mediocre build quality.
Back in Australia, the total cost of building defects in Australia was estimated at $6.2 billion over the last 10 years, approximately $1.4 billion of which was due to water damage.
Waterproofing equates to just 1% of a building's costs, yet water defects and the resulting damage can account for 80% of all building defects.
These statistics paint a bleak picture.
In an effort to mitigate a continued crisis, the National Construction Code (NCC) mandates compulsory, compliant waterproofing across all new construction in Australia.
However, following the Code is not the only motivation to deliver quality, compliant building results. Weatherproof cladding is critical to future-proof your design and avoid defects and subsequent loss of time and money. Furthermore, Professional Indemnity Insurance does not cover non-compliant cladding – this includes improper waterproofing.
At Fairview, we specialise in designing, manufacturing and distributing high-end waterproof cladding that is compliant, safe and long-lasting. Specifying with Fairview is an investment in sustainable cladding solutions.
Why Fairview for external waterproof cladding?
One of the largest cladding stockholds in the country
30+ years of industry specifying, design and manufacturing expertise
7,700+ projects
60+ strong team
Specialists in designing, manufacturing and distributing premium façade solutions to Australia, New Zealand and the United Kingdom
World-renowned architects and developers rely on our brand's quality, reputation, innovation and specialist advice
Comprehensive installation guides, technical data and product brochures to support specifiers
Committed to developing sustainable, fully-compliant cladding solutions
Minimal maintenance required
Energy-efficient solutions
Aesthetically pleasant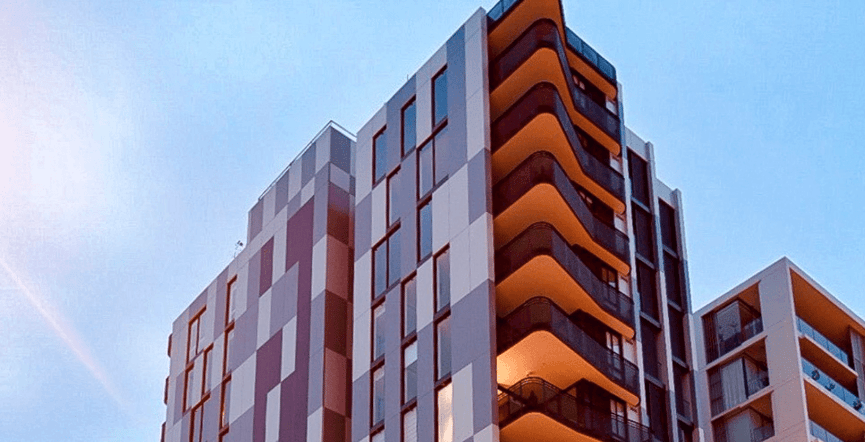 An AS4284 test - no assurance of weatherproof cladding
When considering compliant cladding options, common experience assumes that the existence of an AS4284 test report is considered sufficient. This is not the case. It is important to review the test report and make sure the detailing and pressures are relevant to the project. Each building will have a Serviceable windload pressure and an Ultimate windload pressure, which must be known in order to ascertain whether a particular product can be used on a specific building.
Weatherproof cladding panels by Fairview
Fairview supplies waterproof cladding exterior solutions that are Australian Standards AS4284 tested for high performance; energy efficiency and minimal maintenance.
Fairview external waterproof cladding is AS4284-tested to demonstrate proven performance, energy efficiency and minimal maintenance. These are products built for the future. Industry-leading test results are readily available for analysis of both serviceable and ultimate windload pressures.
Our range of waterproof external cladding solutions to handle the harshest elements includes:
Rainscreen cladding systems
Includes Fairview's Vitracore G2, Genesis, Smartbric, Vitradual, and Stryüm ranges.
A two-level construction system delivering thermal efficiencies, sustained durability, and waterproofing benefits. Rainscreen systems employ airflow and ventilation to insulate structures, reducing their vulnerability to the elements and mitigating potential harm. As rain and wind carry moisture towards the building, most of it is repelled by the outer layer of the façade—the main weather-resistant barrier. Any moisture that manages to seep through this outer layer is subsequently regulated via ventilation and drainage within the gap between the primary weatherproof layer and the secondary weatherproof layer.
→ Discover our rainscreen exterior cladding systems
​​All Fairview cladding undergoes independent testing for AS4284. At a NATA-approved testing laboratory, three Fairview products - Stryüm, Vitracore G2 and Vitradual - all exceeded the minimum testing requirements, including air and water pressure tests. They also achieved the best-attempt results attained by all key competitors' products.
Rainscreen Façades & Weatherproofing Compliance CPD presentations
These Fairview presentations are part of the AIA Refuel Continuous Professional Development (CPD) Provider Program. Participation outcomes include identifying and understanding the requirements for rainscreen façade and weatherproofing compliance and evaluating and understanding the factors affecting project cost.
→Discover our Rainscreen Façades & Weatherproofing Compliance CPD presentation
→Discover our Weatherproofing Compliance CPD presentation
Contact us for your waterproof architectural cladding solutions
If you're specifying waterproof building features, reach out to our helpful team. We're passionate and knowledgeable about cladding and can assist with your enquiry.