The latest NCC (National Construction Code) 2022 amendments have, again, presented several changes that could affect the compliance and performance requirements for building cladding and façade systems, plus other construction materials and methods.
Overall, many of 2022's advocated changes [as part of the routine three-year amendment cycle] aim to make the code more accessible, understandable and practical, which is an instant 'plus'. But in real life, putting the code's principles into practice is where architects, developers and specifiers encounter challenges that could require expert insight and help.
Fairview's Technical Manager – Ashley How – explains how some NCC 2022 revisions will impact the façade cladding side of construction.
What does this mean for façades?
General impressions from these changes are that the ABCB has taken a 'how can we make construction easier?' type approach, by significantly adding more Deemed-to-Satisfy clauses approving products and installation methods. Some of these are better and readily workable, while others may increase risks around common defects like weatherproofing.
Bonded Laminates
The bonded laminates clause has been again retained in the NCC and is not slated for future amendments. For Fairview, this reinforces full compliance of our relevant products including the popular Vitracore G2 panels.
There's a key new provision that prevents fixing of certain bonded laminated cladding panels by adhesive only, but this is unlikely to have much impact as the installation recommendations of several main product suppliers already align with this new clause.
Weatherproofing
The addition of deemed-to-satisfy weatherproofing requirements is a first in NCC 2022, but as waterproofing is one of the most common defects in high-rise construction, some concerns are flagged by the new requirements – and it's worthy of explanation below:
The advocated change of clause F3D3 implies that – where sarking is used in accordance with AS4200 – that ticks the box for weatherproofing. Yet we have concerns that under tall building/high wind loads [where sarking can readily tear] this could be problematic.
Moreover, re the approval of external metal wall cladding in line with AS1562.1 is – in our opinion – unlikely to enhance waterproofing performance. Waterproofing is the number one defect affecting high-rise constructions, so to assign weatherproofing of wall cladding to a standard designed for roofing performance under wind-loads – with no significant water or weatherproofing requirements – is perplexing. For absolute surety, compliance should be built around system-based weatherproofing testing, not on wind-load strengths or attributes. While not obvious in the code, the requirements of the standard means it is only really applicable for large format roof sheeting products, and not for the majority of metal cladding products used in high-rise facades.
Fire Resistance
Approving more materials agreed as non-combustible (in terms of their fire resistance) simplifies the choice of construction products and materials and slightly reduces build and product certification costs. This applies to re-cladding and replacement of combustible cladding. So, bravo on that front, NCC.
Sustainability and Thermal
The changes Section J (thermal and sustainability) are not included in this latest code preview and have been slated for release later this year. We understand there are no significant changes planned for this version of the code. Yet, at a time when we're consulting to construction professionals – and the wider market – interested in sustainability and sourcing, there is a real desire to see more clarity and guidance around these topics.
Accessibility
For NCC 2022 more generally, our review confirms NCC 2022 adopts a new 'consistent volume structure' with a clause referencing system to create better consistency across all volumes. There are some clause name updates too; so, for instance, the performance requirement to prevent the spread of fire is now C1P2 rather than CP2. And although the NCC now looks different too, the re-organisation of content aims to improve the user experience and make the Code more web-accessible.
Handily – as this transition to the new design evolves – the old clause numbers continue to be listed on the document's right-hand side as an easy reference for code aficionados.
For those wanting to get into the granular detail of amendments specific to façade and wall cladding, please see our supplementary notes on Section C [Fire Resistance] and Part F3 [Roof and Wall Cladding] in the appendix to this article.
Appendix
Section C Fire Resistance
The non-combustible exclusions under C2D10(4) (previously C1.9d) have been significantly extended, including:
- Isolated packers, fixing accessories
- Waterproofing/weather sealing materials for concrete joints or weatherproofing 250mm up from ground level
- Wall ties, reinforcing
- Paint and the like
- Adhesives, including tapes, associated with stiffeners for cladding systems
- Fire sealing for penetrations
There is a new clause, which lists products defined as non-combustible C2D10(5). This list includes concrete, stone, terracotta, ceramics and most common construction metals.
Bonded laminate concession C2D10(6)(g) has been amended to include a fixing requirement C2D15, that:
- BLMs externally must have all layers of cladding mechanically supported or restrained to the supporting frame
Part F3 – Roof and wall cladding.
These changes are quite significant as they introduce Deemed to Satisfy Provisions for weatherproofing. Previously weatherproofing has relied on performance requirements only. Some of these new clauses that achieve the performance requirement are:
F3D3 – sarking type material used for weatherproofing of roofs and walls must comply with AS 4200.1 and AS 4200.2
F3D5 – external wall cladding must comply with … metal wall cladding: AS1562.1
To provide more detail on AS1562.1, this is primarily a structural and corrosion standard with some weatherproofing discussed in capillary action, minimum overlaps and flashings. The main content relating to cladding is:
Aluminium to comply with AS1734, be 5251 or 5052 grade and at least 0.7mm thick
Fastenings such as clips, brackets and washers shall be made from sheet aluminium in 3000 or 5000 series. No stainless screws.
Designed in accordance with AS1170.2 to resist wind actions
Design documentation to include profile, dimensions, spans, fasteners
Installation includes following design documentation, minimum end laps, and flashings around all projections through the cladding
Wind pressure testing to be conducted to AS4040.2 and 4040.3 for non-cyclonic and cyclonic zones respectively, and shall match the design documentation
Appendix B is informative having some helpful tips on minimising water penetration from wind driven rain
---
Related Articles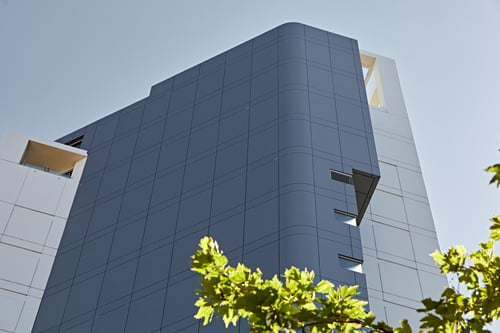 August 1, 2023
Not only should a building's façade look good upon installation, it must also stand the test of time and withstand environmental factors for...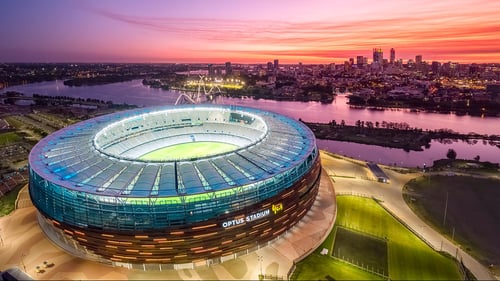 August 24, 2023
Elevating Monumental Architecture with Superior Interlocking Cladding Interlocking cladding, also known as linear cladding, has widely been ...